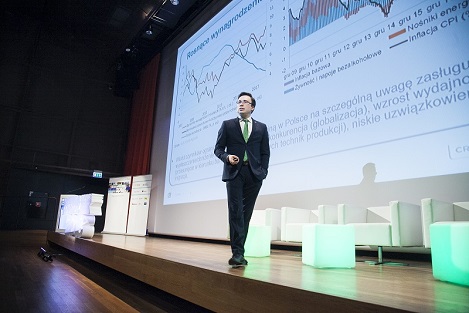 Coface Country Risk Conference is dedicated to risks in commercial transactions and to supporting the growth and exports of Polish companies. The 13th conference was held on 21 March. One of its speakers was Jakub Borowski, the chief economist of Credit Agricole bank.
The topic of this year's conference was: "Business in full swing. Have risks disappeared?" Jakub Borowski was talking about the prospects for the Polish economy in the context of the evolution of the monetary policy. In his opinion, the growing wage dynamics have a limited impact on inflation in Poland. The Philip's curve, specifying the interdependence between unemployment rate and wage growth, has flattened and declined in many countries, which means that the impact of unemployment on the wage pressure is smaller than in the past. Globalization, lower unionization rate, immigration, and higher productivity were mentioned by J. Borowski as other factors which slow down inflation. According to J. Borowski's forecast, inflation will reach 2% in December 2019 and the NBP will start rate hikes in November 2019.
Credit Agricole helps enterprises to take appropriate business decisions concerning international expansion and search for new outlets abroad. The bank provides support to corporate clients in trade finance by proposing solutions that minimize the risks of international trade exchange and ensure liquidity of settlements deriving from international contracts. It is also offering products optimizing cash flows from the implementation of contracts concluded with foreign counterparties.
Credit Agricole Bank has been the Coface Country Risk conference partner for several years.