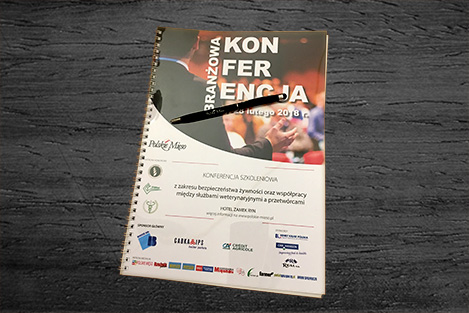 Credit Agricole was the main sponsor of the trade conference of the Polish Meat Association, which took place between 27 and 28 February 2018 at Ryn Castle. This cyclical event organized every year under the banner "Food safety – supervision, division of competences and experiences in cooperation between veterinary services and processors" is a valued forum for discussions, sharing expert knowledge and experience for meat producers, trade companies, representatives of government institutions, as well as Polish and foreign research institutes.
The conference was held under the honorary patronage of the Minister of Agriculture and Rural Development, Chief Official Veterinarian, National Veterinary Research Institute in Puławy, and Institute of Agricultural and Food Economics.
The debates focused on main topics such as challenges, risks, trends and forecasts for the meat industry in 2018, hygiene of meat establishments, epizootic risks related to ASF, avian flu, or religious slaughter. The lecturers included Mr Paweł Niemczuk – Chief Official Veterinarian, Professor Małgorzata Pomorska-Mól of the Swine Diseases Department of the National Veterinary Research Institute in Puławy, Professor Andrzej Kowalski – Director of the Institute of Agricultural and Food Economics, Ingrid Morvan – Legal Advisor at L'Union Européenne du Commerce du Bétail et des Métiers de la Viande (UECBV).
Credit Agricole Economist, Jakub Olipra, gave a lecture entitled "Current situation in the meat market and forecasts for 2018", in which he discussed factors determining domestic prices of pork, poultry, and beef, described current market trends, and presented Credit Agricole Bank Polska forecasts for 2018.
Credit Agricole's involvement in the conference is a part of the bank's wider cooperation with the Polish Meat Association. At the beginning of the year, the parties signed a Partnership Agreement under which the bank is to support the Association's initiatives and actions helping to improve the situation in the Polish meat market. The decision to develop partnership with the Association reflects Credit Agricole's strong commitment to addressing the needs of the agricultural and agri-food sector. Its expertise and commitment make Credit Agricole a reliable partner for agribusiness: from individual farmers to large corporations, from primary production to the processing industry and major suppliers of goods and auxiliary equipment.